Due to an issue with the fibre optic network, the schools and centres listed below do not have internet access and cannot receive incoming calls.  We are working on the problem with our supplier and the situation should be back to normal later today. Thank you for your understanding.
Alexander Galt Regional High School, LVTC, Lennoxville Elementary, Sherbrooke Elementary, Cookshire Elementary, Sawyerville Elementary, St. Francis Elementary, Pope Memorial, ADS, New Horizons, Richmond Regional High School.
---
Congratulations to Bradley Daignault from Alexander Galt Regional High School and Taylor Dubois from Richmond Regional High School on being awarded the Lieutenant Governor of Quebec's Youth  Meda
Bradley Daignault

Taylor Dubois

---

On April 18th the ETSB United in Music concert under the theme "Songs of Change' rocked the Massey-Vanier High School auditorium! Congratulations to all the students who performed, the music teachers who supported it and the organizers who made it happen.
---

---
Concomitance Estrie Project, a Regional Approach for School Success!
 Sherbrooke, March 14, 2018 – Today, at Remorques Ter-O Concept inc., in the presence of business leaders, stakeholders and students, the four Estrie school boards launched the Concomitance Estrie (2-4-U)project. Thanks to this initiative, youth in the area can now follow one of 23 vocational training programs offered collectively by the school boards.
For more information read the  Communique_ConcoEstrie_EN
or visit the website at www.concoestrie.ca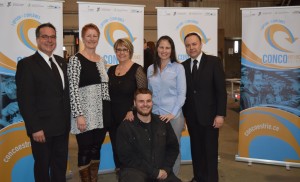 ---