EASTERN TOWNSHIPS SCHOOL BOARD
RECOGNIZES & CELEBRATES VOLUNTEERS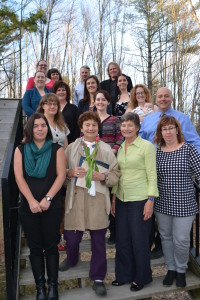 Each year the Eastern Townships School Board (ETSB), invites volunteers from across its territory to an event to thank them for their dedication. This over 40 volunteers were nominated from their school and centre and invited to attend a Volunteer Recognition event held in Orford, on April 26th.
One by one the volunteers were presented and recognized for their invaluable contribution and support to students. After the presentations, the ETSB Central Parents Committee, announced this year's Volunteers of the Year, who are chosen by a sub-committee of parents. The volunteers of the Year for the 2016-2017 school year are:
Elementary – Western Sector
Annie Needham, from Heroes' Memorial Elementary School
Elementary – Eastern Sector
Amy White, from Princess Elizabeth Elementary School
Secondary
Nadja Dziambor, from Massey-Vanier High School
On behalf of the everyone at the Eastern Townships School and especially the students, we would like to congratulate all the nominees and thank all of the volunteers in our schools and centres, who give so freely of their time and energy each and every day.
---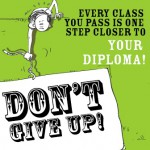 Students are the first to be affected by school perseverance. As spring is a time when students may well drop out, the Projet PRÉE is launching a campaign directly addressed to students to encourage them to finish their school year. The campaign Don't give up! will target young people in places they frequent to encourage them to finish their school year successfully.
---
25 Year Recognition
On March 16th, the Eastern Townships School Board, recognized this year's employees who have been with the school board for 25 years. We were honoured to celebrate this milestone and thank them for their dedication to the many students they have helped to succeed over the last 25 years.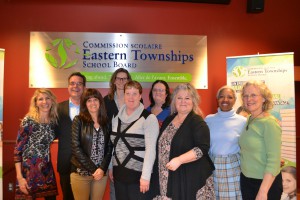 back row, Lynn Roy, Luc Rodrigue, Stephanie Brown, Carol Chute-Smith, front row: Manon Lessard, Norma Humphrey, Johanne Di-Narzo, Alana Russell, Heather Webster Missing from the photo: Donna Young, Luisa d'Andrea, Catherine Canzani, Todd Winquist, Trudy Tincarre, Marlene Goodenough, Steve Coates, Lisa Turcotte