Summer Hours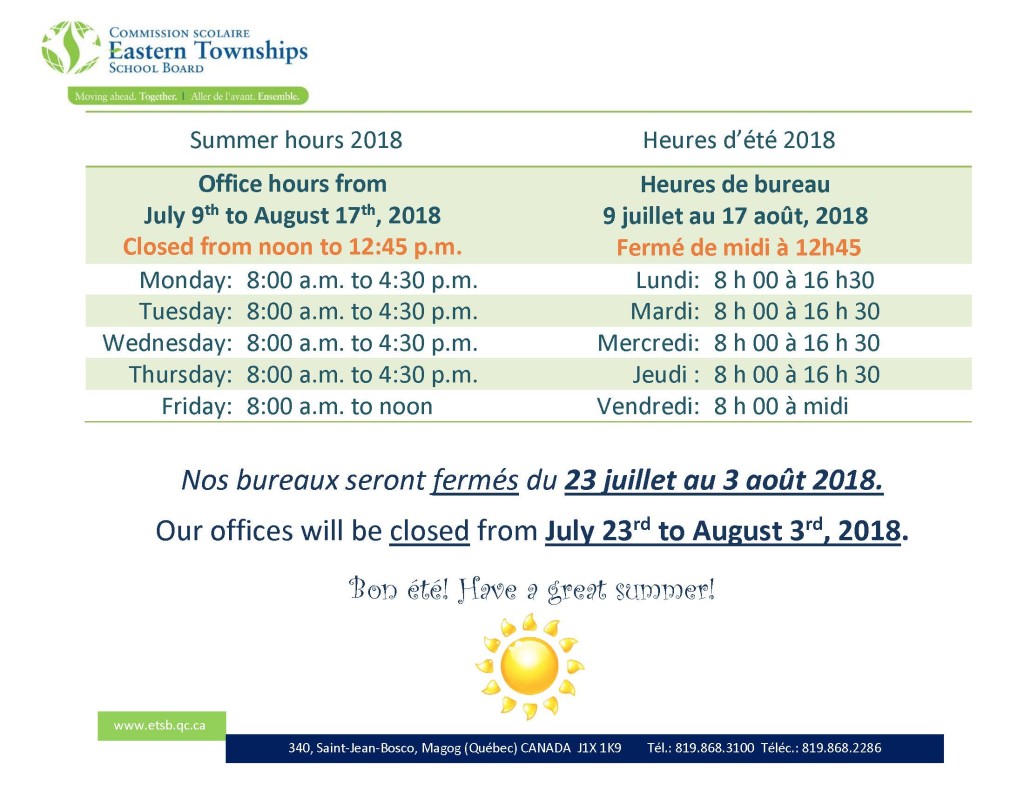 ---
Class Action
Settlement in a class action against Quebec school boards / Fees paid by parents for textbooks, instructional material and educational services 




NOTICE – English
---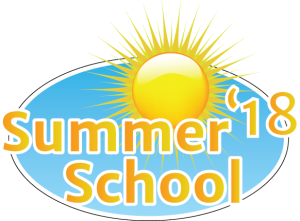 The end of year is approaching quickly, and we would like to take this opportunity to wish all our ETSB students the greatest success in their final examinations. For those students who are not successful in passing the Sec 4 (Math, Science) or Sec 5 (English, FSL) Ministry sanctioned courses, online tutoring sessions in preparation for retake exams will be available to students via LEARN Quebec. For more information on these courses and the schedule of retake exams click here
---
Cookshire Elementary School embarks on their Living School adventure.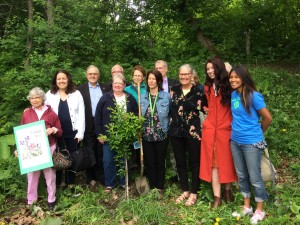 In December 2017, Cookshire Elementary partnered with Dawson College to begin creating a Living School. On Thursday June 7th they officially inaugurated their Living School.
"Transforming the outdoor yard into a discovery playground and the school into a living lab while engaging students in this action creates positive social experiences that are embedded in Nature. This reconnection of People, Community and Nature is restorative. Our schools are filled with students and staff with ever-increasing concerns and this stress is now very apparent. These restorative activities reduce stress and consequently give us all more access to our memory, imagination and creativity that speaks to staff/student success and comfort. Living Schools is about meeting current educational goals at every level within a climate of authenticity and explicit action that showcases care for each other and the natural environment, expressed Chris Adams, M.Ed. Dawson College's  Coordinator – Sustainability Office & Living Campus."
---
Retirees honoured at the annual ETSB Retirement Gala!

The Eastern Townships School Board (ETSB) honoured its retiring staff members at a Gala event held on June 1st 2018.  In attendance were administrators, commissioners, teachers, professionals, support staff and invited guests, all there to recognize and toast the honourees.  The evening entailed the taking of photographs, the exchange of stories and a tribute to each retiree in attendance.  As each administrator spoke of his or her retiring personnel, it became very apparent the wealth of experience, dedication and commitment these individuals held collectively for their students and colleagues.
On behalf of everyone at the ETSB we extend our best wishes to the following retirees:
Sharon Badowich, Petra Bardon-Stroebele, Raymond Beaudoin, Christian Brisebois, Anastasia Christodoulopoulos, Robin Colyer, Chantal Fréchette, Michael Goodsell, Kathy Hanson-Gibson, Jean Harrison, Wendy King, Randy Kinnear, Kimberley Logan, Ralph Marrotte,, Trenholm Morin, Rita Morin, Pierre Morin, Janet Mosher, Constance Peacock, Lucie Pellerin, Kenneth Porter, Donna Reid, Anne Ryzora, Del Springate, Cathy St-Jean, Jennifer Sumner, and Janet Whyte.
---
Concomitance Estrie Project, a Regional Approach for School Success!
 Sherbrooke, March 14, 2018 – Today, at Remorques Ter-O Concept inc., in the presence of business leaders, stakeholders and students, the four Estrie school boards launched the Concomitance Estrie (2-4-U)project. Thanks to this initiative, youth in the area can now follow one of 23 vocational training programs offered collectively by the school boards.
For more information read the  Communique_ConcoEstrie_EN
or visit the website at www.concoestrie.ca