You can access the online re-registration site by clicking on the MOZAIK logo
Be sure that you use the same email you provided to your child's school to access MOZAIK and the re-registration website;

If you have more than one child to re-register be sure that you provided the same email for each child. If you provided a different email for a sibling, you will have to use that email to access that child's re-registration.
 You must create your account, even if you used this service last year. Scroll down on the log in page for the link to create your account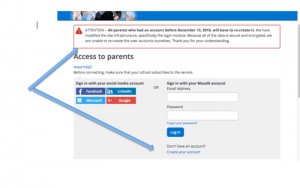 When creating your account be sure that you have entered the verification code properly (best to copy and paste into the box)
Be sure you have entered your password correctly. If after 3 attempts your password is not working reset your password to avoid being locked out

If you will need daycare services and your elementary school offers daycare be sure to register for it at the same time as re-registering your child
If you are still having difficulties, please contact your child's school

 If you choose not to re-register your child, please indicate the reason.
Video tutorial
User Account Creation