EASTERN TOWNSHIPS SCHOOL BOARD RECEIVES $13.2 MILLION FOR A NEW SCHOOL IN DRUMMONDVILLE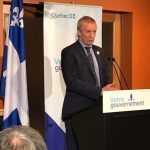 Drummondville, June 20, 2019 – The Eastern Townships School Board (ETSB) welcomes the announcement made today by Mr. André Lamontagne, Minister of Agriculture, Fisheries and Food, Minister Responsible for the Centre-du-Québec Region and MNA for Johnson for funding in the amount of $ 13.2 million for the construction of a new English elementary school in Drummondville. This will be the first construction of a new elementary school for the Eastern Townships School Board.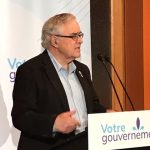 "We are very pleased that the Minister has recognized the need for a new elementary school to serve the population that has chosen to attend an Anglophone school in Drummondville. We pride ourselves on taking innovative approaches to student learning and the current school did not meet the needs of our students to learn and of our educators to offer the best environment possible," expressed Michael Murray, Chairman of the Eastern Townships School Board. "With the continual increase in enrolment, our wish has been to be able to build a new school with a large playground, recreation area and state of the art classrooms that would align with the direction that the Minister is taking with his new Policy on Educational Success. This announcement today will allow us to build a school that will meet those needs. I can assure you that we will make the most of this investment for the students and staff of Drummondville Elementary School and the community it serves."
Drummondville Elementary is the only English language elementary school serving the Drummondville and surrounding population offering students the advantage of quality instruction in a bilingual environment. The school population has tripled since the school was reopened at the request of the community in 1998. The school has a projected enrolment for next year of 260 students from kindergarten to grade 6. It offers students a quality education and the advantage of a bilingual learning environment.