ETSB Unveils the New Addition to Its School Bus Fleet – an Electric School Bus!
Sherbrooke, September 2, 2016 –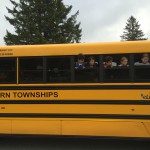 Students attending some of the Eastern Townships School Board Schools are now leaving a smaller carbon footprint when getting to and from school each day. New for the 2016 -2017 school year, the Eastern Townships School Board (ETSB) has added an electric school bus to its fleet. The new "eLion" bus will be transporting ETSB students in the Sherbrooke area that attend Sherbrooke Elementary School and Alexander Galt Regional High School.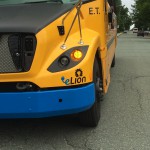 The First and Only Electric School Bus in the Estrie!
A first for the Estrie area and one of only a handful of electric school buses on the road across Quebec, the new electric school bus is a pilot project for the school board. "The model we have purchased has four batteries and a range of approximately 120 kilometers per charge. For this reason we have chosen a more urban route that covers mostly the Sherbrooke area. During the morning run, the bus has been using on average approximately 50% of its charge. With a turnaround time for a full charge being five hours, this give us ample time to recharge to full power before the afternoon route", explained Bruce Banfill, Coordinator of Transportation for the ETSB.
Although the initial purchase cost is approximately twice that of a regular school bus, the projected savings in fuel and oil alone are close to $10,000 per year, which when added to the savings in maintenance should cover the additional purchase cost in 10 years. "On average a regular school bus will require extensive engine work after seven to eight years, which can cost in excess of $12,000. With the electric bus we do not have this cost, therefore extending the numbers of years we can keep them in the fleet," expressed Mr. Banfill.
Going Green an Important Step for the ETSB!
Having an ecological and cost effective alternative for its fleet of school buses is important for the ETSB, who operates its own fleet of 78 buses. Accumulating over 2 million kilometers a year, ETSB buses cover a vast territory that includes all of the Estrie region as well as a school in Drummondville. The option of using electric school buses allows for savings in operation costs as well as the reduced impact on the environment by moving away from the use of fossil fuels. The ETSB has also made a 'virage vert' at its head office by attaining a LEED (Leadership and Energy in Environment Design) certification.
The Eastern Townships School Board provides educational services for students in the Estrie and Montérégie areas with 20 elementary schools, three high schools, two adult education centres, two vocational training centres, a distance education and an international student program. We offer students the advantage of studying in a bilingual environment, led by caring adults and supported with a comprehensive technology initiative that is student focused.
- 30 -
Source and information:
Sharon Priest, Communications Consultant
Eastern Townships School Board
priests@etsb.qc.ca